Custom officials bust gold smuggling cases
Mumbai -
Airport Intelligence Unit caught two Chinese nationals Zhou Weiwu and Chen Yanyan while smuggling gold at International Airport. AIU seized 24 carat goldden pendant which is worth Rs. 37,65,000.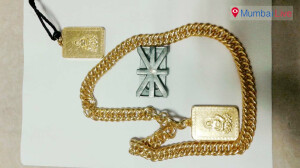 On Thrursday, these two nationals flew from Hong Kong in a Jet Airways and arrived in India. When their baggage was frisked, 1,255 gram gold was found. Both the accused work in Chinese Obima diamond company and they agreed that they smuggled the gold.
In another case, customs officials seized Rs. 17.5 lakh gold ornaments from Nagpur's couple namely Sanjay Kukreja and Savita Kujreja. Customs officials also seized 585 gram worth golden bangles and chain.