'Prayas' to sponsor 5 visually challenged students
The Prayas NGO will sponsor the education of five visually impaired students of Kamla Mehta blind school. This NGO believes that more than financial help, these blind students need help in terms of education. They decided to sponsor five students who are poor and cannot afford education. NGO declared this decision on 15 March by distributing chocolates amongst students.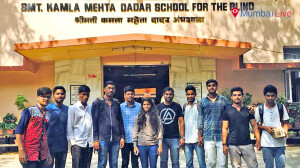 The Prayas NGO's president Saurabh Mumbaikar, consultant Sachin Bansode and Vishal Kadam, Vikas Patekar, Sachin Kakad, Sachin Bade, Yogita Salunkhe, Komal Shetye, Pravin Chavhan, Deepak Bhanvase, Rohit Mane, and Yogesh Sukle were present at during the event.