BMC clears illegal hawkers outside Ravsaheb Patwardhan Garden in Bandra
Mumbai -
BMC while taking action on the illegal hawkers have removed the stalls from the pavement of the entrance gate of the BMC's Ravsaheb Patwardhan Garden near the Linking Road in Bandra.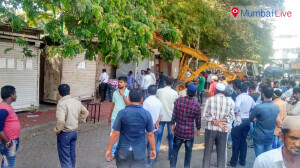 After the removal of 13 stalls the garden door has been opened, which was occupied by illegal hawkers at the entrance gate.
BMC's Raosaheb Patwardhan Garden is an important and popular garden in the western suburbs. In the garden, there are places for senior citizens various types of plants, flowers, bushes add to the beauty of the garden.
In the garden, there are provisions for small children to play, public toilets, lights etc. Garden Opens is from 5.30 am to 10 pm and from 4 pm to 9.30 pm for public.