MNS stages 'Bhik Mango' protest against T ward civic officials at Mulund
Mumbai -
BMC did not pay the electricity bill and so Mulund's Sambhaji Maidan is lurking in dark since a month now, alleges Maharashtra Navnirman Sena's workers.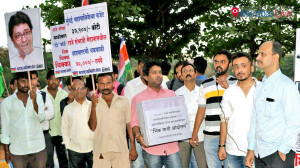 They added that BMC has not paid Rs. 70,000 light bill and so MSEB cut off the power. In order to protest the BMC's lackdaisical attitude, MNS party workers staged a bhik mango protest.
MNS Vidyarthi Sena's president Sagar Devre and MNS ward chief Rajesh Chavhan led the protest where they asked for money from residents and players. "We will beg for the money and after collecting good amount, we will DD the cash to T ward officials. If they dont do anything about power cut then we will do the thiyya andolan outside the T ward," said Sagar Devre, MNS. Meanwhile, BJP corporator Rajni Keni said that she spoke to the T ward officials who will work on the power cut issue.