Mystery message on city walls baffles all
Mumbai -
Mumbai may not boast graffiti of the creative variety that New York or Paris walls do, but we often come up with some truly intriguing ones.
'Bachna hain toh ai mere dost, aao khele mendicoat' is the message going right from Vikhroli to Lower Parel. The unsigned graffiti is scrawled with a spray pen, and bears an uncannily similar calligraphy everywhere. For a long time, Mumbai's fences, compound walls and highway ramparts were signed by 'Insane' and then 'Poker' took over as the mystery signature on walls in the city. For the last two months, however, this strange message has been doing the rounds of the city's walls.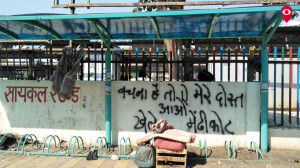 Mumbai Live reporters fanned out across the city to get to the root of this strange message. Security guards, civic officials and local residents are all foxed by this enigmatic message. No one has seen the mystery graffiti person at work. Most say the graffiti appears in the middle of the night. In several places, like the flyover at Kalanagar, Bandra, it has appeared right after a fresh coat of paint has gone up on the flyover embankments.
There is no pattern to the locations either. One of the messages is up near the Ruparel College in Matunga west, another on the stretch of the Eastern Express highway at Vikhroli. Several railway station walls, including Mahim and Matunga Road, have been graced by the same message.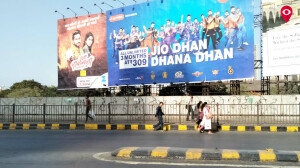 So what is the mystery graffiti person trying to convey? Is it a hark back to a popular card game to which it alludes? Is it a secret code of identifying locations by a secret gang of sorts? Is it a mystery trailer for an upcoming Hindi film? Is it a warning sent out by a underworld outfit to a rival? Is it a one man army or is it a bunch of collegians out to baffle the authorities. The possibilities are unending, but the answers are not forthcoming.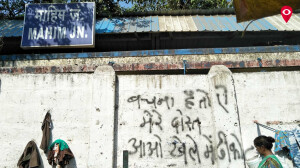 The Mumbai police, when contacted, say they have no idea about the strange message, its origin or intent. Unless the message turns out to be an innocuous teaser to a film or the prelude to a sinister plot, Mumbaikars will have to be content reading and wondering at the mystery of it all.