Open newspaper reading room started in Naigaon
Open reading room service for the residents of Naigaon in Dadar started by Prince Sports Club on Saturday. The free Newspaper reading room was started by the name of Dr. Babasaheb Ambedkar Newspaper reading by new BDD Chawl number 21.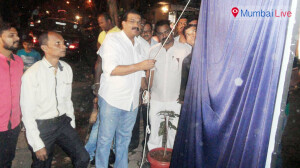 On Saturday, senior police inspector Dattrey Patil from Bhoiwada police station inaugurated this open reading room, on this occasion, General Secretary Gajendra Dhumale from Wadala constituency, members of Prince sports club were also present.