Kumbharwada road paved with problems
Mumbai -
Pedestrians are having a tough time walking on the footpath near the Alankar cinema at Kumbharwada thanks to loosened paver blocks.
Paver blocks in this area were dug out to level the road. However after the work, the paver blocks and sand and gravel continues to clutter the road. This is causing inconvenience to the residents. "We want civic officials to clear the road by removing the sand as well as paver blocks," said a local shopkeeper Ashish Shelar.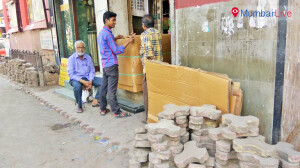 The civic contractor, who is in charge of the project, however, refused to speak to Mumbai Live about the issue.