Repair work leads to inconvenience
People near Abdul Masjid Haji Nathani chowk are facing a lot of problems due to the potholes on the footpaths. The potholes can be fatal as there are electric wires which can lead to electrocution.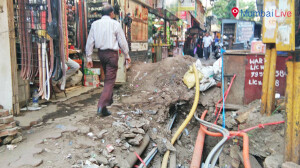 This street was dug by the BEST department to supply electric supply to the nearby signal, but even after a week, the road was not properly covered again. According to the local resident Siddhesh Chavan, the work of fixing electric wire was completed five days back but still, the BEST department has left the street unattended.