Dr Ambedkar Jayanti celebration with awareness on saving water
Mumbai -
On the occasion of the 126th birth anniversary of Dr Bhimrao Ramji Ambedkar, Dr Ambedkar Jayanti Mandal 5 A in Dadar-Naigaon this year has come up with social messages to create awareness on saving water among people.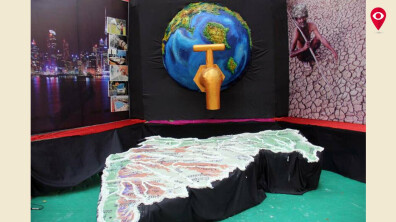 The mandal this year on the birth anniversary of Dr Ambedkar apparently aimed to spread awareness around the importance of saving water. The mandal exhibited their exquisite creativity by making a globe that measured 20 ft in height with a tap fastened to it.
Every year this mandal celebrates Ambedkar Jayanti by giving out messages on important issues like female foeticide, eradication of superstition, saving the environment and so on and this has been going on for the past 55 years.