Street dogs attack two kids; injures one
Parel – Two minor girls became a prey of street dogs that attacked them at Ambernath's Balaji Nagar area. One of the injured girls has been admitted to KEM hospital.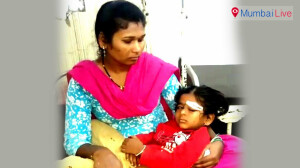 Khushi Papul, 5 years old was playing outside her house when she and her friend got attacked by a stray dog. Khushi tried running away but her efforts went in vain, as the dog bit her at three places. Khushi suffered a head injury and luckily her eyes were saved. She has been admitted to Chhaya hospital where she was asked to transfer her to KEM hospital.After the attack, she started vomiting and so ambulance 108 was called to take her to KEM hospital. However, the ambulance was not ready to take her to Mumbai and so Khushi had to suffer for hours.