Meet the corporator who attends civic meetings with her three month old baby
Mumbai -
Citizens are used to watching their corporators drive around in swanky SUV's dressed up in bright white clothing. But the newly elected corporator Steffi Keni is different. She recently attended civic meetings accompanied by her three month old baby. She is supported in her mission by her husband who has quit his job and now travels to the BMC headquarters with Steffi for each meeting.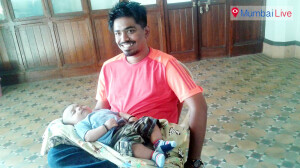 The baby seems to have brought luck for Steffi as she used to take him around during the election campaign. Steffi Keni was present with her baby not only during the elections but also during the general body meetings of the BMC. When Keni walks into the BMC, she hands over baby Sanchez to her husband Mario Graces and starts her work.

"It takes two to three hours to reach BMC from Madh and while returning home, it takes us more than three hours. So I decided to help my wife by taking care of the baby when she is working. Now I have quit my job, but once our son grows up, I will take up a job again," said Maryu Graces.
Keni believes that there should be a day care centre for working women . "My baby is too young and I can't keep him at home and at the same time, I cannot avoid committee meetings. So, I am accompanied by either my mother, mother in law or my husband who then take care of the baby while I am at work," says the committed corporator.
Though many political parties promised day care centres for working women in all wards, its far from reality as women corporators themselves don't have access to such services. But beyond all this is the steely resolve of Steffi who is fulfilling her duties as an elected public representative.
Mumbai Live salutes her spirit!