Construction worker falls to his death at Dharavi
One poor worker fell to death from the second floor of civic school at Dharavi's Kala Kill area. Chintamani Vishwakarma was the worker who died by falling on to the ground. Dharavi police station registered an accidental death report and is investigating the case further.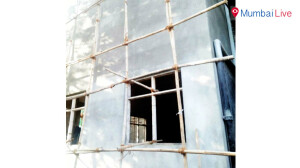 Marathi civic school of Dharavi's Kala Killa was in dilapidated condition and so workers were doing repairs but without safety belts or harness. Bamboos were built around the building where workers were doing repairing work. While Vishwakarma was busy working, he slipped and fell onto the ground. As he was working without any safety harness or helmet, he got injured. Other workers took him to Sion hospital but he was declared dead on the arrival.