Dongri police seize fake new denomination notes
Dongri police have arrested accused Waqar Ahmed (21) and seized 32 fake notes of Rs 2000 and Rs 500 denomination from him during a routine inspection at Wadi bunder in Sandhurst Road on 6 March.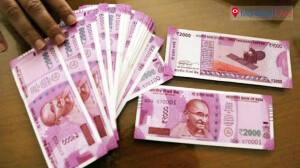 On 6 March there was a routine vehicle inspection conducted by the police. Accused Waqar Ahmed was in fear and police had suspected him due to his weird behavior. When police frisked him police found fake notes in his possession. There were 11 notes of Rs 500 denomination and 21 notes of Rs 2000 denomination. Accused is a resident of Madanpura area in Byculla. Dongri police arrested him and further investigations are underway.