Car catches fire on Eastern Express Highway
Mumbai -
On Wednesday late night around 1 am, a car caught fire near Mulund on the Eastern Express Highway.
The driver however did not panic and parked the car at the road side of the road. It was due to the alert driver that a mishap was averted on time and without any loss of life.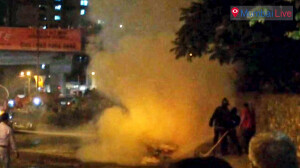 However, till the fire engines reached the spot, the car had been reduced to ashes. Traffic was affected for a while on the highway, however.