Four unidentified people looted cash box containing Rs. 1.5 crore
Mumbai -
An incident of looting an ATM machine in Dharavi came in the news which rattled the area. Around 1.5 crore was looted. Police have not arrested anyone in this matter.
It said that cash van came in afternoon to fill the State Bank of India ATM at Sant Rohidas Marg in Dharavi. The security people with the ATM van parked their van at a side and went to fill the ATM machine.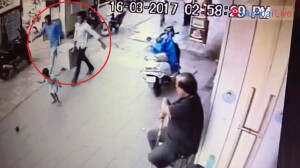 During this time, four people attacked the van and looted the box containing cash in it. This whole incident was captured on CCTV installed there.Police are suspecting some bank employees to be in this plan. Police is investigating the matter.