Dindoshi police seize gunny bags with old notes
Dindoshi police station seized one gunny bag of old notes in a car near Dindoshi court. This was witnessed by an eye witness Pravin who told police that he and his neighbours saw few people getting down from Scorpio car and throwing gunny bags near Shabana compound.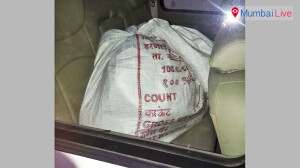 They then followed the car and due to signal, they were able to catch hold the people. Then they called the police who seized other gunny bags from the car and seized the car as well.
.