Movie Review: This visit to the 'Toilet' will leave you unsatisfied
Mumbai -
Cast: Akshay Kumar, Bhumi Pednekar, Divyendu Sharma and Sudeep Sharma
Rating: 2/5
Lately, Bharat Sarkar planned many programmes for the betterment of our country, especially for those rural belts which have not been looked at, for many years. One of the most popular campaigns is PM Modi's beloved 'Swachh Bharat Abhiyan' which also includes the agenda of ending open defecation. The concept has been promoted across platforms, in support of every format, earlier through TV shows and now through this movie, Toilet - Ek Prem Katha. But just like many other advertorial videos, this film too is impressive only for the cause and not for the execution.
Thirty-six-year-old Keshav (Akshay Kumar) who lives with his father Panditji (Sudheer Pandey) and his brother Naru (Divyendu Sharma), wishes to get married, but due to Panditji's superstitious and conservative beliefs, he is forced to get hitched to a buffalo as performing this ritual would offset his misaligned stars. Following this is the next belief that Keshav should only get married to a girl with a double thumb (keep Hrithik Roshan as reference) as she will bring good luck to his life. Whilst being frustrated with these senseless demands, Keshav, on one fine day, meets Jaya (Bhumi Pednekar) over a fight on a train.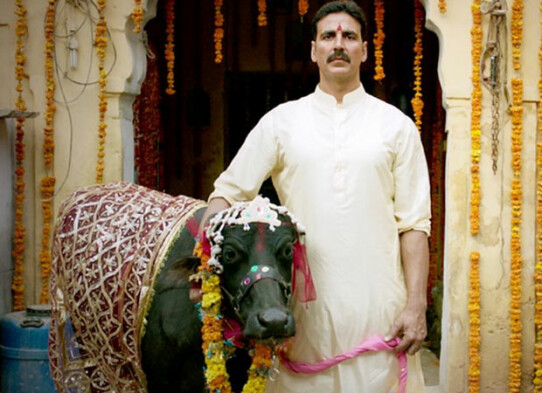 He instantly gets attracted to her, and after repeatedly following, meeting and wooing her, both agree to get married, by going ahead with a jugaad and fooling Panditji. But the situation starts getting worse when the new dulhan finds no toilet in the house, and for her to complete those chores, she has to be a part of the gaon's lota party, before dawn. She complains to Keshav who like a good husband tries to help her with every loose option, and nothing concrete. This irks her and she gets back to her parents one fine day, eventually leading to a ruckus in the village and a divorce agreement between the two.
The poor husband tries hard to find a solution, but does he build a toilet against the traditions, norms and the societal will? Well, that is what rest of the film is about – a story where a bare necessity interconnects with many challenging orthodox age-old traditions, some believe, in today's life.
The film's concept and the cause shown here deserve an appreciation. Narayan Singh's idea to bring this issue to the forefront is commendable. The movie does manage to point out many ideas followed blindly across India, primarily in the rural areas. But the flaw here is in the narration of the film as it doesn't translate into a thorough entertainer.
While the first half of the film strives to entertain with funny dialogues and moments, the second half focuses actually on the concept, but soon becomes repetitive and preachy, so much so that the makers also take a chance to talk about Modi's demonetisation move, eventually making this social satire a well-conceptualised propaganda.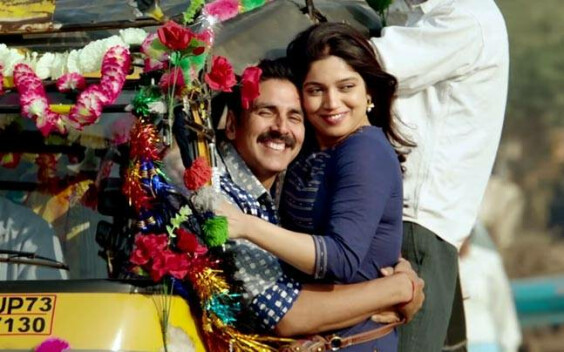 Talking about the actors, Akshay Kumar delivers a decent performance as Keshav and is hilarious in parts. Bhumi Pednekar as Jaya is impressive, and she is strong throughout the film. Divyendu Sharma as Naru is also funny and his character adds a lot of value to Keshav's role. Sudheer Pandey delivers the Panditji to the best. There are moments where you wish to raise a voice against his orthodox views and thoughts. Anupam Kher's role is the only character poorly written for the film and it did seem that the legendary actor was trying hard to justify the role.
The cinematography and locations chosen for the film were very well captured. The screenplay and dialogues could have been better. But if any element has to be pointed out for the poor delivery of the film, it is the editing. The makers should have made a simple film to convey a significant message wrapped in a love story. But they chose to showcase a 160 minute long, snail-paced film, which chokes you to boredom, not only due to its length but also due to the pace and a highly predictable climax.
To sum it up, this visit to the 'Toilet' will leave you unsatisfied. If you had a plan to go for it, give it a second thought - flush it.