Sarcasm soars between 'Sona' and 'Asli Sona'
Mumbai -
First the news about singer-actor Sonakshi Sinha's performance in Justin Bieber's Mumbai concert had created a buzz on social media, making fans and fraternity question if it was a right choice to make her perform. Later, the lady herself confirmed that she wasn't performing and it was hoped that everything would end with this. No more conversation, controversy or comments. But no, sadly, there is more to it.
The spats on social media, about this, are getting murkier day by day and usually aren't really ending on a good note. This began with Sonakshi Sinha getting embroiled in virtual war with singers fraternity over the speculation about her participation in the upcoming Justin Bieber show.
On Tuesday 'Rajjo' tweeted to clear the air abut the matter stating she is not going to be part of the concert and we all thought that this was it . But now 'Ambarsariya' fame singer Sona Mohapatra had slammed Sonakshi for not communicating the same to Amaal on Monday.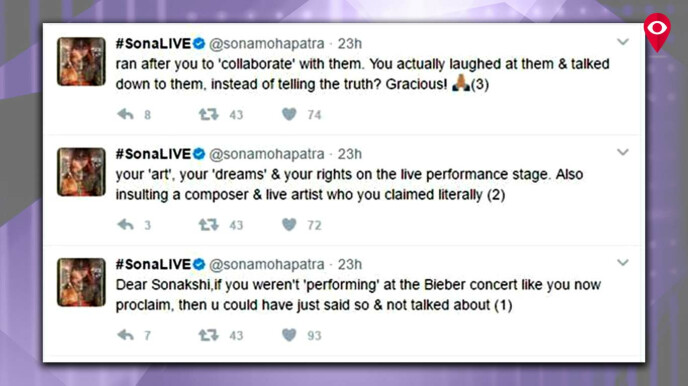 In a series of tweets, Mohapatra criticised Sonakshi for insulting singers and musicians. After reading Sona Mohapatra's post, Sonakshi blocked the singer, who later posted a screenshot of the same along with a sarcastic remark that read, "Hahahaha! Not that I'd ever followed this bundle of talent, grace & intelligence."