MMRC to spend 34 lakhs on tree surgeon
Mumbai -
Colaba- Metro 3 project which is making news for various reasons have one more reason to add on to. According to Vanshakti NGO project coordinator Stalin Dayanand, Mumbai Metro Corporation Limited has the plan to spend lakh of rupees on a tree surgeon- a person who prunes and treats old or damaged trees- who has still not come to India. This tree surgeon will be coming from Singapore will be staying in India for six months.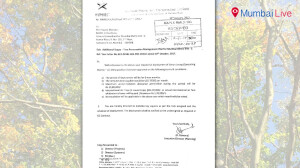 A tree surgeon will be getting Rs. 22 lakh salary and will be spending Rs. 10, 80,000 on his stay. Not only this, MMRC will be spending Rs. 1, 20,000 on his air tickets. Vanshakti NGO and Save Tree NGO are condemning MMRC for this spending. Dayanand said that MMRC should spend money on trees and not on tree surgeon. He added that why MMRC hired Singapore tree surgeon and not Indian?
Meanwhile, MMRC executive director R. Ramanna said that it was their responsibility to hire a well-experienced tree surgeon and so they went for Singaporean tree surgeon. However, at the same time, he refused to divulge further details about the same.