Shiv devotees throng Mumbai temples on occasion of Mahashivratri
Worli - Mahashivratri is being celebrated across the nation since early morning today. This is the festival which is celebrated in honour of Lord Shiva. Mahashivratri literally means "the great night of Shiva." It is observed by chanting prayers, fasting and offering milk to the idol of Lord Shiva.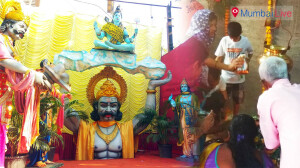 The Shiva temple in Gopal Nagar, Worli has been witnessing heavy footfall since morning. Devotees were present in huge numbers to offer prayers and seek blessings. The temple dates back a few centuries and every year devotees flock to the temple in huge numbers on this day to celebrate Mahashivratri. During the evening, bhajans and kirtans will be held chanted and the festival enjoyed to the fullest.