400 resident docs at KEM hospital hold rally to protest assaults on doctors
Mumbai -
Over 400 resident doctors working at the municipal KEM Hospital held a rally within the hospital premises on Monday to protest the increasing incidences of assaults on doctors by patients' relatives.
In the space of the last seven days, attacks on resident doctors in various parts of Maharashtra - Dhule, Nashik, Aurangabad and Mumbai - have been reported. The protesting doctors say that they are merely on the frontline of the medical treatment offered at public hospitals. However, impatient relatives often vent their ire on the residents, blaming the residents for negligence.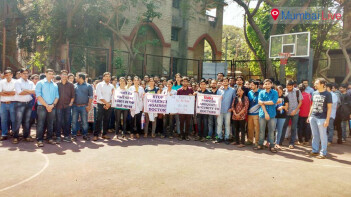 On 18 March, relatives of a deceased patient attacked a differently abled resident doctor at the municipal Sion Hospital. The residents held a candle march on 19 March to protest against the administration's apathy to their problems. On Monday morning, the residents struck work to focus attention on the issue.
Read here
https://www.mumbailive.com/en/around-you/sion-hospital-resident-doctors-on-strike-9283
The KEM resident doctors said they are unable to carry out their duties in such a scenario. Sources told Mumbai Live that several residents, fearing for their safety, have gone on leave.
The Maharashtra Association of Resident Doctors (MARD) which represents the resident doctors, has not come out in support of the protest. KEM MARD president Dr Rajesh Katre told Mumbai Live that the resident doctors took out the rally on their own initiative.
The social media was abuzz with reports that a similar attack had occurred at the Jerbai Wadia hospital in Mumbai this morning. However, Wadia Hospital CEO Dr Minnie Bodhanwala told Mumbai Live that no such incident had occurred in the hospital.