IMA asks all OPDs in city to shut down -Doctors' agitation worsens, HC hearing today
Mumbai -
The resident doctors' agitation in the city took a turn for the worse with another assault on a doctor at the Sion hospital on Wednesday evening.
The Indian Medical Association, which has extended its support to the agitating resident doctors in the city, has asked all OPDs, clinical establishments and medical services with immediate effect. This could have a crippling effect on medical services. Only emergency services will be kept operational, it is learnt.
The Mumbai High Court will be hearing the case today. The court had earlier this week rapped the striking doctors and had directed the representative body MARD to ensure that all resident doctors report to work immediately. Read here-
https://www.mumbailive.com/en/city/mumbai-high-court-raps-striking-resident-doctors-9335
Sources say Dr Manasi Patil, one of the pediatrics SMOs, was being assaulted by relatives in the ward, who claimed that they were not satisfied by the treatment. Security, claim doctors arrived on the scene only 30 minutes later.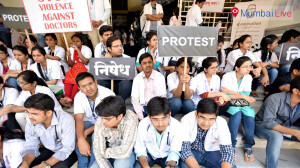 Striking doctors camped on the roads outside Sion hospital late night on Wednesday demanding adequate security to doctors from relatives. Meanwhile, residents of KEM hospital, who have been expressing solidarity with the Sion Hospital doctors, were evicted from their hostels and were seen camping on the basketball court on the hospital premises.
Read here -
https://www.mumbailive.com/en/city/resident-doctor-strike-still-going-on-day-3-9377
The Indian Medical Association meanwhile has expressed its support to the striking doctors and has asked all affiliated associations to stop OPD services in all hospitals and individual clinics with immediate effect.
Meanwhile, the BMC Medical Teachers Association has unanimously decided to support the agitation. The association plans to give a memorandum to te president of India, and the medical education minister today. The memorandum condemns all attaccks on post graduate students and asks for stricter security and safety measures at hospitals.
The IMA state branch held a protest rally at Azad Maidan on 17 March to protest the continuing attacks on doctors. The BMC earlier this week issued directives for better safety measures for doctors in civic hospitals. However, with no change in the rate of attacks on doctors, the IMA has now asked doctors to shut down OPDs, clinical establishments and medical services from immediate effect.