KEM resident doctors refuse to back down
Mumbai -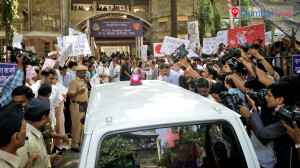 Resident doctors in the municipal KEM hospital at Parel have stepped up the agitation.
The doctors, upset by a fresh attack on a female resident doctor at Sion Hospital on Wednesday night, have been congregating in the KEM grounds and staging protests against the authorities.
The doctors are demanding that the government should give written assurances and enact laws that would help ensure the safety of doctors from irate patients and their relatives. The doctors, worried that the safety issues would stay unresolved if they withdraw their agitation. The doctors have refused to withdraw the agitation until the government promises enactment.
Also Read: HC orders, chief minister 'requests' striking doctors to resume duties