Best from waste at Chandotsav 2017
Two days Chandotsav 2017 event was organised at Dadar where best from waste products were put up for display. Here, one get to see paintings made on canvas, Ganpati idols made by paper, beautiful bookmarks, origami, show pieces made by coconut waste. "I have made things out of paper. This will solve the problem of papers going waste. When I thought of setting up this exhibition, I met people like me who love preserving their hobby and this is how 'Chandotsav 2017' came in shape," said Anand Bhave, organizer.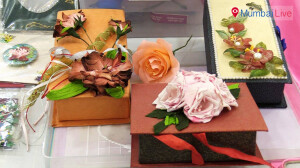 "I tried making 'tamhan' flower which is known as national flower, with the help of paper and has also made tulas plant by using paper," said Malti Mehendale, artist. Along with this, poems which are usually written on paper were seen on different objects.