Mumbai museums you can't miss on World Museum Day
Mumbai -
When was the last time you stepped into a museum? If the answer falls somewhere in the era that dates back to your school days, here's a reason for you to pause and ponder. 18 May is marked worldwide as World Museum Day, a day that grants opportunity for museum professionals to meet the public and alert them to the challenges that museums face. Mumbai may not have bragging rights about the number of museums it houses, but the ones that are world class and worthy of a dekko.
Chhatrapati Shivaji Maharaj Vastu Sangrahalaya
Okay, the earlier generation knew it as the Prince of Wales museum, essentially because it was constructed in the early 20th century to mark the visit of Edward VIII, who was then the Prince of Wales and a visiting dignitary to the city. It's location near the Gateway of India means it is perpetually beseiged by tourists, but once you elbow your way in, it's an enchanted kingdom.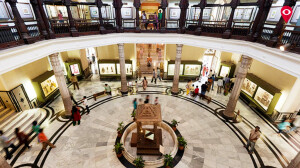 This museum houses approximately 50,000 exhibits of ancient Indian history as well as objects from foreign lands, categorised primarily into three sections: Art, Archaeology and Natural History. It also organises events and exhibits to promote upcoming talent. In November 2016, the museum hosted a century old mummy, while two years ago, the museum displayed the Cyrus Cylinder, on loan from the British Museum.
Dr Bhau Daji Lad museum
The oldest museum in Mumbai is housed in the Byculla zoo.
This one too has been rechristened -its British monicker Victoria and Albert Museum has given way to the present name. Formed in 1855, it was the first colonial building to be built for the specific purpose of housing a museum.
In 1975, the museum was renamed in honour of the man whose vision and dedication enabled its establishment. Dr. Bhau Daji Lad was the first Indian sheriff of Mumbai, a philanthropist, historian, physician, surgeon and secretary of the Museum Committee when it was first instituted. By 1997, the museum was in a dilapidated state. The Kamalnayan Bajaj Foundation initiated restoration work in 2003 under the expertise of Intach and in 2008 the museum was back on its feet.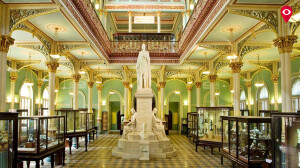 The museum showcases the city's cultural heritage and history through a rare collection of 19th century fine and decorative arts. The permanent collection includes miniature clay models, dioramas, maps, lithographs, photographs, and rare books that document the life of the people of Mumbai and the history of the city from the late 18th to early 20th centuries.
RBI Monetary Museum Mumbai
For those with a yen for numismatics, this is a goldmine. Vastly undiscovered by the general populace, the Reserve Bank Of India's money / monetary museum is fitting located on Mint Road in the Ballard Estate area and has an abundance of information about old and new Indian coins, dating back to the humble cowrie till the newest 2000 rupee note. It is the only museum in Mumbai which offers free entry.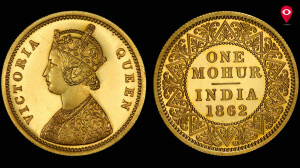 This money museum was started in 2004, and houses over 10,000 ancient and historic old coins made of a variety of metals, displayed on wall behind glass. You could not ask for a better history of the nation's monetary journey.
Aai Museum
You may not have heard of this one located at Orchids, on the domestic airport road, but it's completely a labour of love.
Curated by noted restaurateur Dr Vithal Kamat, this museum is specially committed to all mothers and portrays antiques from the Maratha dynasty. The hotel with the museum is the prized property of Kamat who has spent more than 30 years collecting the artifacts. This is the only in-house museum in the country within a 5 star hotel with another location situated in Fort Jadhavgadh Resort.
A must for those who love to take a trip down memory lane .
Mumbai International airport terminal T2
Mumbai's latest pride and joy, T2 is also a visual treat if you are a lover of the arts. Between check ins and baggage deposits, passengers at Mumbai international air port can take a breather and submerge themselves in the world of art, crafts and heritage. Unlike other museums though, you would need an international air ticket to enter this one - this museum with nearly 7,000 artifacts, a 3km-long art wall and works by over 1,500 artists is actually housed in an airport. T2 is also celebrating World Museum Day with week long festivities and additional works on display. If you have got a ticket, go for it. As a matter of fact, on the occasion of World Museum Day, the inauguration of Jai Hey Painting wall was done by Tourism Minister Jaikumar Rawal at the Chatrapati Shivaji International Airport today.