A salute to the never-say-die Mumbaikar!
Mumbai -
The 'spirit of Mumbai' is a phrase that will be repeated ad nauseum on this day - 26 July - when the city remembers the trauma it endured exactly 12 years ago. But what is it that keeps the city ticking all the time, come flood, riot or terrorist attack? We spoke to a cross-section of Mumbaikars to understand exactly this. Read on.
Arjun Sawant is one among the fleet of 5000 dabbawalas who ensure that 2 lakh Mumbaikars have their lunches on time every day. He's seen it all - the 26 July 2005 deluge, the 26 November 2008 terrorist attacks and the 2011 bomb blasts that rocked the city. Never once in 15 years, even on these dates, did he let even a single stomach go empty.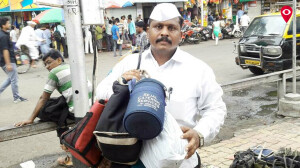 "We can't let anyone starve. This means that come hell or high water, I have to leave my house for work every morning. Besides, I think this is a noble profession - I am ensuring that so many are fed, every day! It doesn't matter even if the railway services break down after a heavy shower because my trustworthy bicycle is always there.
I guess that's true of every Mumbaikar. Everyone here is out to work so that there's food on the table at the end of each day. Nothing stops him.
Arjun Sawant
Dabbawala
Girgaon
If the local railway is the city's lifeline, the taxis are the blood vessels that feed it. Vaibhav Sawant has lived in Dadar for nearly 50 years, eking out an existence by running a kali peeli taxi. It may not have brought him riches, but that hasn't stopped him from dreaming.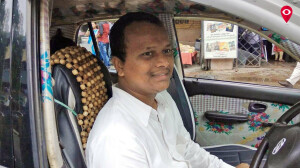 "Mumbai is a city of dreams. I too have a dream - I want to buy myself an iPhone. These are the dreams that ensure that no Mumbaikar is ever lazing around. There are also other reasons - family responsibilities, ever increasing inflation, spiraling needs - all mean that the Mumbaikar has to step out every day, whether he likes it or not. I own six taxis, and yet I find it difficult to make ends meet. Whatever happens in the city, I must work every day!
Vaibhav Sawant
Taxi owner-driver
Dadar resident Sandeep Vaidya runs a canteen in the heart of the city and thinks Mumbai is a magic city. He says he is as proud of it as he is in awe of this city that never sleeps!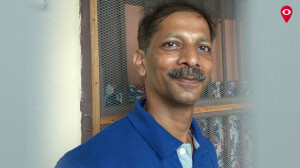 "The atmosphere in the city is always magical. The city just doesn't seem to go to sleep anytime. Besides, there's always someone to help you in times of crisis, be he Hindu or Muslim. The police and civic officials make you feel like you are living in a secure city. The entire city closed down when Balasaheb Thackeray passed away. I was among those who delivered lunch boxes to the staff at the G/North ward office.
Sandeep Vaidya
Owner
Siddhivinayak Poli Bhajikendra
A doctor is one you remember in terms of any crisis or calamity. Mumbai is no different. But a Mumbai doctor shifts the credit entirely to the city.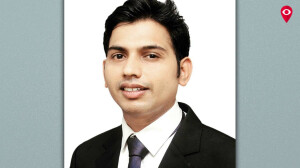 "It's a doctor's duty to offer medical service. The patient is always our priority. At such times, we don't bother about personal safety. It is at such times that I value Mumbaikars' courage. It is this quality that ensures that Mumbai is back on its feet within hours of any calamity, each time.
Dr Rajesh Katre
President
Resident Doctors' Association
KEM Hospital
--
The city's fire brigade is one service you can rely on 24/7, be it for a blaze, house collapse or a bird stuck in a tree. The fireman do yeoman service in the worst of circumstances, but Mumbai's chief fire officer Prabhat Rahangdale who has been in service for 28 years, believes it is the city's spirit that keeps it afloat all the time.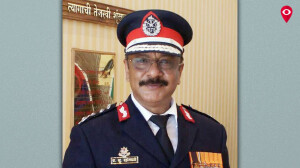 "If the brain is to work properly, other body organs should work perfectly. If Mumbai is the brain, then we are the body organs and we have to work perfectly. If we are expected to offer a solution in times of crisis, we have to - there is no option! If we crib about our problems at such times, who will respond to the city's crisis? July 26 was one such day when the brigade had to face huge problems. But we created our own resources. Also, Mumbai never gives up. The city believes in combating its problems and bounding back. That keeps us going too!
Prabhat Rahangdale
Chief Fire Officer
Mumbai fire brigade
--
The two lakh strong police force that guards the Mumbaikar has seen it all - underworld wars, communal riots and international terrorism. This is the policeman we turn to when we lose a wallet or think someone is stalking us. The policemen take it all in their stride, floods included.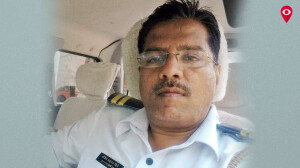 "Mumbai is a stoic city. Let any crisis come up, the Mumbaikar is ready to face it. And so are we. It's our prime duty to protect the citizens. So, whatever happens in the city, you will always find the policemen on the roads."
Ajit Shinde
Traffic Police Constable
Matunga
And lastly, the common man, the Mumbaikar who sets out in a share-auto every morning, jostles for space in the local train to reach work and undertakes an even more perilous journey during the peak hours to take another train back home to a family that has worried incessantly about his well-being the whole day. Does he think about the everyday crisis and do mega events like the 26 July floods scare him anymore? Is he already scarred for life?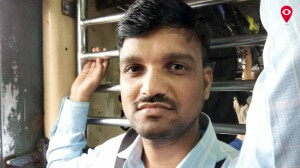 "What's going to happen, will. Are we going to stay at home worrying about that? I need to earn my bread. And the Mumbaikar is inured to all this - blasts, rains, and riots. If I have to earn, I must step out.
Santosh Nirmal
Mumbaikar
Arjun Sawant's Mumbai runs on its belly, and Vaibhav Sawant's Mumbai is one full of dreams. Sandeep Vaidya finds it a magical city while Ajit Shinde thinks it's a stoic city. For each, Mumbai shows a different side, but one thread runs common through each insight - the Mumbaikar lives for the day and for the coming morrow. It is this spirit that needs a salute - Salaam Mumbaikar!