Confidence Walk to help acid attack survivors
Mumbai -
Mumbai - She is an acid attack survivor and nothing has changed. This rarely happens with acid attack victims. In real life, the survivor often loses her entire face, her confidence, and her strength to face the society. To top it up, she seldom gets justice.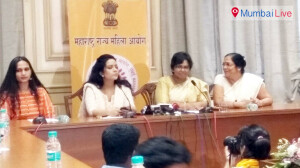 In order to motivate acid attack survivors, the State Woman's Commission and Amruta Fadnavis 'Divyaj Foundation' have organized a 'Confidence Walk' event. This event will take place on 5 March 2017. Along with acid attack survivors, celebrities will also walk the ramp. Corporate companies are also invited so that it helps acid attack survivors with better employment opportunities.
"We want to boost the confidence of acid attack survivors through this walk. We have called upon corporate companies to motive survivors. They will land up with a good job and that will make them self-independent," said Vijaya Rahatkar, chief, state women's commission. Amruta Fadnavis who heads the Divyaj Foundation said that when acid attack survivors will walk with celebrities they will feel more confident about themselves.