Honest RPF constable returns belongings of a passenger
Mumbai -
An interesting incident came to light when an honest RPF constable returned a bag full of cash to its owner. The incident is from Vasai Railway Station.
Vijay Sharma (30) was returning from Surat by Veraval Express, due to some reason he alighted at Vapi station. Sharma in hurry to get down of the train forgot his laptop bag in the train. In that laptop bag, there was Cash Rs 11000, an expensive mobile and a wrist watch.
When Sharma came to know that his laptop bag was left on the train, he informed RPF deployed at the station and his cousin brother Anil Garg. The train reached Vasai railway station's platform number seven at night 12 am. RPF head constable Suresh Chandra Meena took the laptop in his custody and handed over to Sharma's cousin brother Anil Garg.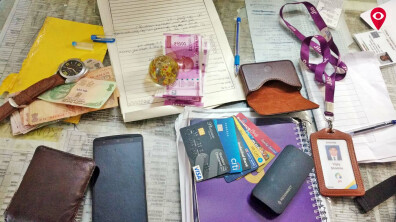 On this, Head Constable Meena said that incident like this often takes place but they return the belongings to the passenger. Many times there are allegations made on police that things are missing when they are returned to passengers, so they make a list of the things found and take signature while returning the belongings.