MMRC seeks citizens' support on tree felling for Metro
Mumbai -
Mumbai Metro Rail Corporation (MMRC) has been heavily criticised about the tree-cutting drive initiated by the authority to clear the road for the Metro 3 project. On Sunday, the beleaguered corporation released a statement, requesting all Mumbaikars to cooperate with it for 'a better tomorrow' - the ubiquitous tagline sported for the Metro projects. The MMRC claims it will make up for the damage being caused to the environment in the future. The Metro-3 project is not based on any illegal activities and all the actions are approved by the High Court, a statement says.
Some environment lovers have rushed to the Supreme Court, after claiming that 5,000 trees would be cut because of the Metro-3 project, causing environmental degradation. But the High Court and the Supreme Court have made a ruling in MMRC's favour. However, there is a dispute over the slaughter of the trees. The judicial battle is stuck in a limbo. Along with 'Save Trees' foundation, protestors started the 'Chipko' movement last week and gave the trees a nice, warm bear hug! This protest is stalling the MMRC's project and creating much bad blood between the corporation and citizens. To clear the air, MMRC released a statement with details on how many trees would be cut and how it would transplant those trees later and so on.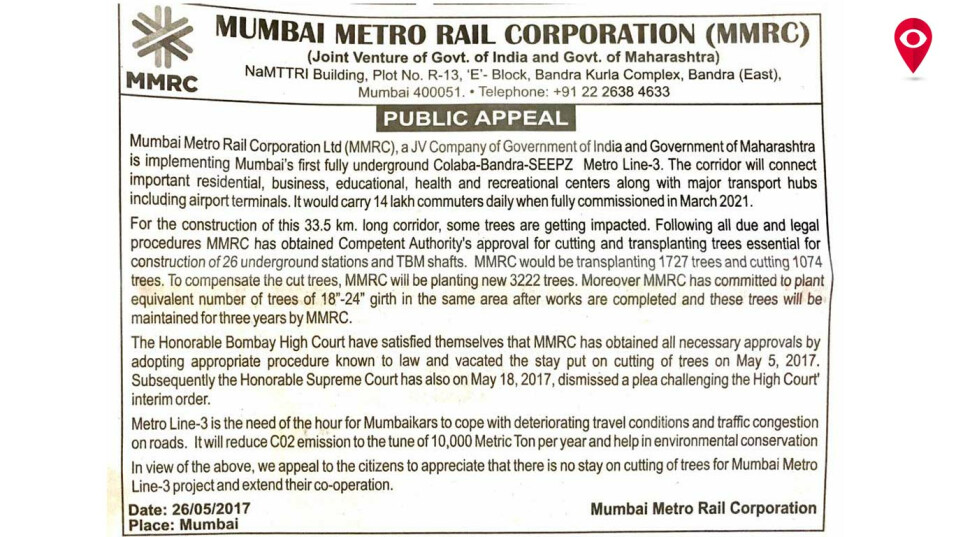 In the entire project, 1074 trees would have to face the axe and 1727 would be transplanted.It has been mentioned in this statement that 3222 trees will be planted in place of the damage caused. The High Court also said that the Supreme Court flashed the green light and has let MMRC continue with the work. But the MMRC does not appear to be mollified just by the SC nod. It now wants the blessings of the citizens too to go ahead with the project and has appealed to citizens to cooperate with this cause. The Save Tree Foundation has however objected to this statement.
This rollercoaster of an issue is likely to simmer for a while longer. The trees, those that are still standing that is, continue to be mute spectators.