Roads diverted and heavy arrangements made for Mumbai's Maratha Morcha
Mumbai -
The Maratha community will take on the streets once again in the city, after having conducted over 57 silent protests across Maharashtra in 2016. The silent march will have no slogan shouting, no upheld banners. Keeping the turnout and the scale of the march in mind and with the Maratha community from various parts of the state coming to Mumbai on Wednesday, the Municipal Corporation has decided to provide free water and public toilet facilities. Water tankers, mobile toilets, and medical camps have also been arranged in many parts of the city.
The Maratha community has started the elections in the state for reservation. The community will be organizing a grand procession in the Azad Maidan in Mumbai on August and the rally will be from Byculla Ranibagh to Azad Maidan. Since the people of Maratha community will be participating in this campaign, there will be tension on all the services in Mumbai. The city police have decided to divert the traffic and keep the roads cleared for the rally.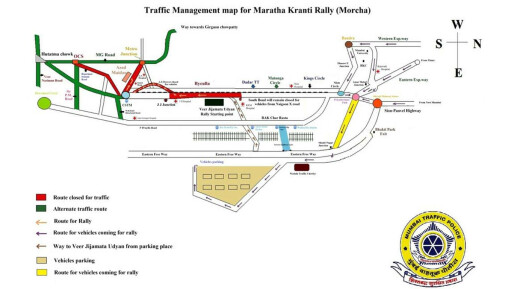 Here are the roads which will remain closed tomorrow:
Dr Babasaheb Ambedkar Road at Dadar Fire Brigade junction
North and South bound roads from JJ flyover to Azad Maidan
Hajarimal Somani Marg from OSC Junction to CST
Metro Junction to BMC Head Office and Bhatiya Baig to the CSMT junction.
The traffic will be diverted to the following roads. Hence, the ones which will remain open are
Dadar TT towards ChaarRaasta
Naigaon Crossroad to RAK Marg
NM Joshi Marg to Lower Parel
Marine Drive Road to Worli
Keep these facilities in mind
Seven rounds of toilets arranged for this rally. There are 15 toilets arranged in all seven places. Prakshak Nagar Nagar Nalla (2) JKKamikals Nalashejari (3), BPT Area Cement Yard (4), E.S. Patanwala Marg (2), Byculla Hume High School (1), Haj House Neighborhood (1), Azad Maidan (2) Adidas are arranged in the adjoining toilets
Water tankers have also been arranged in four places from Sion to Azad Maidan. Eight water tankers have been kept in place. In this, arrangements for drinking water are provided to Vasantrao Patil Engineering College (2), BPT Cement Yard (4), Ranibagshi (1), Azad Maidan (1) etc.
Apart from this, medical teams have been deployed in six places. The medical services will be provided by creating a team of 10 men and ten women medical officers. A special team of doctors will be deployed in Priyadarshnasi (20), Jijamata Garden-Ranibagh (20), JJ Flyover (20), Chhatrapati Shivaji Maharaj Terminus (20), BPT cement yard (10) etc.
The responsibility of the Javar medical team is entrusted to the Deputy Inspector General of KEM Hospital Dr. Pran Bangar. In this, three teams will be deployed by the state government for the administration of the three hospitals of the Municipal Hospital. NMC officials have got the arrangement of taking towing vehicles to pick up the vehicle if it is in the wake of the rally.
Talking about the safety and the police force, Rashmi Karandikar, Deputy Commissioner of Police and Mumbai Police spokesperson said, "Adequate police will be deployed. The local arms forces, State Reserve Police Force (SRPF), Riot Control Police (RCP), Mumbai traffic police, zonal police and police officers from respective units will be deployed to maintain law and order."