Ola, Uber cab drivers plan to intensify stir
Mumbai -
Aggregator cab drivers in Mumbai are holding a protest at Azad Maidan on Tuesday to protest policies laid down by cab companies Ola and Uber.
The agitation by the drivers which began last week with a token one day strike, seems set to intensify if the companies do not accede to their demands. Many of the aggregator cabs are off the roads today while their representatives agitate at Azad Maidan.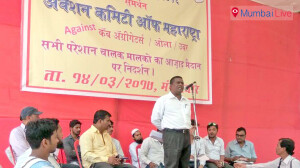 According to a cab driver K K Tiwari, the action committee representing the drivers may plan to stop the aggregator cabs that are still running on the roads. "We have been protesting peacefully so far, but if the companies do not pay attention to oour demands soon, we can take an aggressive stance," Tiwari said.
The cab drivers had observed a token strike on 10 March - https://www.mumbailive.com/en/city/ola-uber-drivers-take-to-mumbai-streets-begin-strike-8913
The aggregator cab drivers are aggrieved by the 'high handed' attitude of the companies and their policies which result in hefty penalties and confiscation of vehicles. An action committee has been formed by the drivers to address these issues. However, a section of drivers continues to ply their cars since their livelihood depends on it.
The token strike on 10 March saw several cabs off the road, resulting in massive surge pricing. A similar scenario can be expected today.