Uber rings in another 'selfie'ish policy, upsets drivers
Mumbai -
Cab aggregator Uber is changing rapidly, and how. Soon after issuing diktats that flirting among customers and littering the cabs is a no-no, Uber has now asked its cab drivers to take 'selfies' at the steering wheel every time they start a new ride.
These selfies will need to be sent in real time to the company. A new app has been created for the same. The move is meant to ensure that the driver registered with the company and the person driving the vehicle are the same. The new rule makes it mandatory for the drivers to take the selfies and post it immediately. The company says this was needed as it is in the interests of customers.
The real time checks on drivers will help in determining the authenticity of the drivers, says the company. The new policy is being currently implemented in Mumbai, Delhi, Bengaluru, Kolkata and Hyderabad.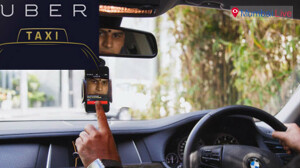 Cab drivers are however not happy with the new policy. According to a cab driver K K Tiwari, the increasing number of cabs on the roads has brought down business. Coupled with the new policies regarding client behaviour in the taxis, this could only lead to another drop in business, he says, alleging that this appears to be Uber's way of putting pressure on cab drivers and reducing the number of cabs on the roads.
Cab drivers affiliated to Uber and Ola had launched an agitation last week against 'unfair practices' followed by the two companies.