Art dekko at Nehru Centre
Mumbai -
A painting exhibition titled Kalasakt has been organised from March 14 to March 20 at the Nehru Centre. 40 paintings of artists Sayyed Isaak Ali and Avinash Deshmukh are currently displayed at this painting exhibition.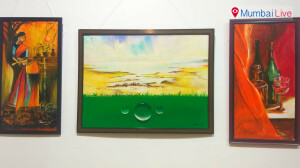 Sayyed Isak Ali has been working as a teacher since 20 years at the Shoaib Urdu High School in Mumbai.
Avinash Deshmukh's paintings reflect a clear inspiration of music in his art.