'Weave of Colours' painting exhibition
Art lovers will get to see 41 different paintings at Worli's Nehru Centre 'Weave of Colours' exhibition which will last until 27 March. Artists Sayaram Waghmare and Vidya Bankar have put up the paintings which are valued between Rs. 30,000 to Rs. 2,50,000. Waghmare is known for his bold colours and strokes.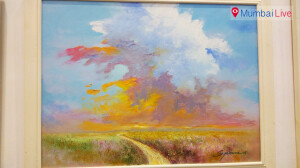 One of the paintings in the exhibition is 'Footprints', which depicts a route which goes into the village showing lush greenery. This exhibition will be open from 11 am to 7 pm daily.