Cool your senses off with a ride in the coolest auto-rickshaw of the town!
Mumbai -
The rickshaw walas of Mumbai seem to be a bunch of creative people. Earlier, we had Sandeep Bachche an innovative, eloquent yet philanthropic rickshaw wala whose auto donned a host of comforts that could transform any normal auto rickshaw ride into an unforgettable one.
Read his story here:
Sandeep Bacche's rickshaw offers WiFi, Telephone, TV and much more (Photos)
So much so, that he was called upon by the TED talk to get vocal about his cause and his wonder-autorickshaw.
Watch the video here:
I drive an autorickshaw with a telly, candy & a cause: Sandeep Bacche at TEDxGITAMUniversity
And if this was not just it, we had one smart rickshaw wala Maqbool Ahmed who had free wi-fi service, snacks and filtered water to offer to the people travelling in his vehicle.
Check his story out here:
Meet The Smart 'Rickshaw Wallah'
And now we have another one added to the list. Enter Vilas Pawar, who took cognizance of the sweltering heat that keeps the city's populace sweating themselves out and decided to exhibit his considerate self, and do something about it. And so he quipped his auto with a small air cooler to ensure that the people taking a ride in his auto can cool their senses off as well.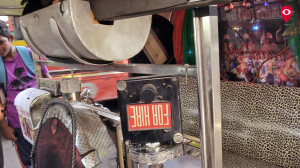 And this is not the only refurbishment that he's done with his auto. Apparently, just like Sandeep Bachche, the Munnabhai in real life, he has outfitted his vehicle with a newspaper stand, a first-aid box and a little message board with a message on AIDS to do his bit in raising awareness around the disease. And to top his acts of magnanimity up, the pragmatic Pawar has put a little donation box for orphans as well which is locked by the Vikhroli Police. This box is opened by the Vikhroli police every 6 months.
And while you are heading towards your destination, you will get a beat of the staunch patriotic sense that is instilled in his heart as he has pictures of jingoists like Dr Babasaheb Ambedkar, Paramveer Abdul Hamid, Shaheed Bhagat Singh, Sukhdev all over his auto.
Pawar says that he wishes that every auto driver is able to install air coolers in his taxi at economical prices. In fact, he also has plans to make his cooler a patent. He has deployed an air-duct and an automated motor which starts the air-cooler.
'I've been riding the auto-rickshaw for the past 18 years and used to have a business in fabrics earlier and it's from there that the idea of installing an air-cooler popped-up in my mind. And since the people travelling in my auto makes them happy, this fact, in turn, makes me happy."

So keep it cool Mumbaikars, because you get to ride in the coolest autorickshaw now.