Mumbai bids goodbye to octroi with surplus collection of INR 400 Cr
Mumbai -
The only city in the world that was collecting octroi, if you discount certain cities in Ethiopia, has stopped the practice from the midnight of 30 June 2017.
This spells delight for the hundreds of truckers who had to spend an inordinate amount of time and bribes at the five entry points of Mumbai - Vashi, Dahisar, Mulund, Thane and Airoli. But it also spells a drastic drop in revenue for one of the richest municipal corporations in the country. As a parting shot, civic authorities overshot their octroi collection target by nearly INR 400 crore in the last quarter.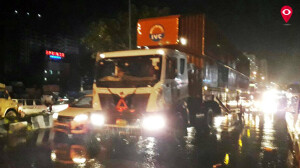 The civic body had set itself a target of INR 1500 crore but managed to collect a whopping INR 1890 crore by the end of June. Needless to say, nearly 1300 civic employees have been rendered jobless since the midnight of 30 June and the civic administration is yet to take a call on how they will be compensated.
Quantum jump
The BMC's octroi target for the fiscal year 2016-17 was INR 6850 crore. However, the corporation collected INR 7275 crore till 31 March this year, pocketing an additional INR 400 crore.
The story so far
The Maharashtra government abolished Octroi in Thane, Navi Mumbai, Nagpur, Pune and Pimpri-Chinchwad municipal corporations from 1 April 2013, replacing it with Local Body Tax (LBT). Mumbai was expected to follow soon, but never did. As of June, Mumbai was the only city in the country where octroi continued to be collected.