NGOs file police complaint against MMRC
Environment-friendly NGOs have iled police complaint at the Aarey police station against Mumbai Metro Rail Corporation for carrying out construction work depite the National Green Tribune's stay order and without permission.
On Saturday, Vanshakti, Save Tree, Save Aarey NGO came together and filed a police complaint against MMRC. "We have asked the police to take action against MMRC," said Vanshakti NGO founder Stalin Dayanand.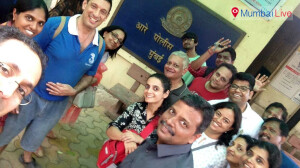 On Thursday, MMRC carried out soil testing work amidst police bandobast despite the stay order put by the National Green Tribunal at unit no 19. "The hearing of the National Green Tribunal will take place on 9 April and another hearing will take place on 10 April at High Court," said Zoru Bathena, Save Tree NGO