Death trap on GTB Nagar foot over bridge?
Mumbai -
High voltage wires dangling over you as you cross the foot over bridge at GTB Nagar don't make for a pleasant crossing. But that's the harsh reality pedestrians are having to face for the last few days.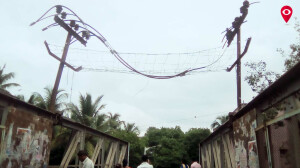 With the monsoon taking hold of the city over the weekend, the peril of the dangling wires getting loose and coming down on unwary pedestrians cannot be ruled out. To make matters worse, the holding walls of the bridge are of cast iron, excellent conductor of electricity.
Bridge across forever?
The bridge connects Kurla and Chunabhatti, and joins Pratiksha Nagar and Sion as well, and sees hundreds of footfalls every day. Residents say they have seen sparks fly from the wires over the last few days, but that the railway administration has not done much to repair the sorry state of affairs and they fear for their safety.
This is what the Railway authorities say
No senior railway officials were available at the GTB Nagar for comment. However, a railway official, Akshay Kamble, told Mumbai Live that the wires would be repaired soon.