Is Ghatkopar's skywalk for pedestrians or for drug peddlers?
Mumbai -
The Ghatkopar skywalk has no more space for pedestrians. It has been encroached upon by beggars, canoodling couples and drug peddlers, leaving no space for pedestrians to walk. Pedestrians say they avoid using the skywalk in the late evenings as it becomes difficult to walk amidst the drug peddlers and couples.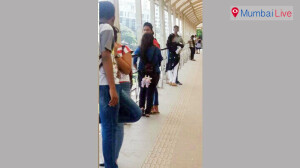 "We have taken action against drug peddlers but can't keep them away form the skywalk for long," said Ghatkopar RPF inspector Brijesh Kumar. Pedestrian Suvas Chalke said that the drug peddlers' menace is increasing day by day and civic officials should do something about it. N Ward officials however, refused to comment on the issue.