Domestic Help Coordination Committee protests at Azad Maidan
Mumbai -
Members of Domestic Help Coordination Committee staged a protest at Azad Maidan against exploitation by employers. The protest was called by the Coordination committee of the domestic help to condemn the injustice done to them.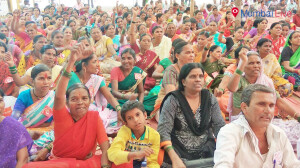 According to the Domestic Help Coordination Committee, General Secretary Shubha Shamim, the state government has established Welfare Board for the Domestic Help in 2004. The Board has announced that after the completion of 55 years, they would be given Rs 10,000, a and benefits under the Janshree Insurance Scheme. But workers have not got the benefits due to the negligence of the Labour Officer or Assistant Commissioner for want of regular reports.
According to the Welfare Board, domestic help should get wages according to the number of hours of work, weekly off, yearly bonus, sick leave.