Read how an electric meter reader became the city's BEST committee chairman
Mumbai -
Strange are the ways of fate. Anil Kokil, who quit his job as electric meter reader at the Bombay Electric Supply and Transport Undertaking (BEST) earlier this year to contest the civic elections, has now been elected committee chairman of the same authority.
Ironically, Kokil was elected unopposed in the elections held on Thursday as the Bharatiya Janata Party did not field its candidate for the position. The Shiv Sena, which fielded Kokil, has seen its candidate's work at close quarters. Kokil, a first time corporator from ward 204, has been an office bearer of the BEST Kamgar Sena. The beleaguered BEST's employees are now hoping that Kokil's appointment will help them get their salaries on time.
The election on Thursday was a mere formality, since mayor Vishwanath Mahadeshwar, who is also the civic administration's presiding officer, had not received any other nominations for the post.
After the announcement of Kokil's election to the post, BJP member Sunil Gunacharya moved a motion seeking a stay on all BEST meetings till the issue of pending salaries for the BEST staff is resolved. Kokil threw his weight behind the resolution, saying he would not accept any felicitations till the salaries for the month are issued. However, he shortly accepted a felicitation organised by the BEST Kamgar Sena.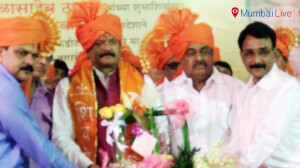 Meanwhile, sources say that the BEST is contemplating taking a loan of Rs 100 crore from Canara Bank to pay salaries to nearly 42000 employees by 24 March 2017.