Residents halt civic demolition of Sewri temple
Mumbai -
A demolition drive to bring down an illegal religious construction at Sewri was halted after residents opposed the action.
Civic officials who were all geared to demolish a temple situated at Sewri's T J road, had to stop the drive after residents blocked their efforts. The Rafi Ahmed Kidwai police and Sewri police reached the spot and brought the situation under control. The demolition drive was consequently pushed ahead to another date.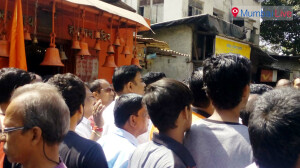 Sources say Mafatlal Industries' owner had built the temple in 1931. The temple, now popular among locals, receives a steady stream of devotees every day.
On Wednesday, the Supreme Court issued an order to demolish the 76 year old temple owing to its illegal status. However, when BMC officials arrived on the scene, residents gheraoed the temple obstructing the work and started protesting. Meanwhile, residents along with the local corporator Sachin Padwal met BMC officials with documents that proved the legality of the costruction.

"We will file a petition and will get a stay on the demolition," said Sachin Padwal. He added that he would also try to get the temple included in the list of heritage structures included in the 'A' category.