Corporator distributes sewing machines to 100 women
Shiv Jayanti is being celebrated for the last four days at Dharavi's Sant Rohidas Road. During this four day long celebration, Dharavi corporator Muttu Tevar distributed sarees to 600 women and handed out sewing machines to 100 women. During this event, Shiv Sena MP Rahul Shewale, corporator Muttu Tevar, mayor Vishwanath Mahadeshwar, and former corporator Rajendra Suryawanshi were present.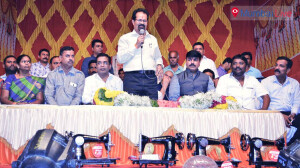 "We are trying to make women independent and so we gave them sewing machines, so that they can stand on their own feet. I am thankful to the organisers who thought of women," said Vishwanath Mahadeshwar, mayor. He added that he will put an end to Dharavi's issues.