Farmers weekly market a hit at Matunga
Mumbai -
Bharatiya Janata Party started farmers weekly market with a view to help out debt-ridden farmers. Though at some places, farmers are facing losses due to space crunch and less response, Swami Samarth Shetkari Utpadan limited is getting good response at Matunga.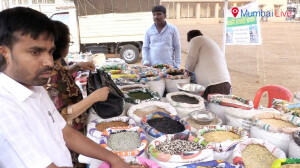 Here, farmers are earning good income as people are getting fresh veggies and at lower price. Along with this, people are also preferring to buy home made papad and pickles from Swami Samarth.
"We are happy with the response and we will do our best to deliver fresh veggies," said Satish Gaikwad, farmer. Another farmer Surekha Wakhare said that she got a platform to sell her home made pickles and papads and is very happy with the sell.