Man caught for smuggling in 121 iPhones
Mumbai -
On Thursday night, customs department officials seized gold and iPhones brought in illegally by intercepting two passengers at Mumbai airport.
Customs officials intercepted Asif Iqbal Munaf Malek, who had arrived from Johannesburg via Addis Ababa by Ethiopian flight # ET 610. 121 units of iPhones worth Rs. 31, 47,000 kept in a checked in bag wrapped with black cellophane tape and wrapped in small packets to avoid screening detection, were recovered from him.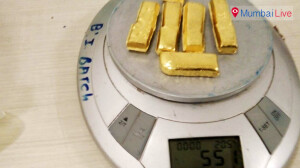 Another passenger named Ramlal Mohanlal Mansharamani who had arrived from Bangkok by Air India flight # AI-331 was intercepted and six cut pieces of gold totally weighing 551 gms valued at Rs. 16,50, 554 were recovered from him. The pieces were kept in an inner vest secret pocket and wrapped in black sellotape. The police have registered cases against both the passengers.