11 Mulund citizens killed in accident on Pune-Solapur highway
Eleven persons from Mulund, who were traveling to Akkalkot were killed in a major accident on the Pune-Solapur expressway at Urli Kanchan early this morning.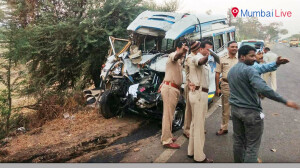 The incident occurred when a wild pig suddenly came in front of the passenger bus owned by Jyoti Travels and the driver lost control over the bus and collided against the truck. The incident took place around 5.30 am. Among the deceased are five men, five women and a girl child.Many more are said to be injured and taken to a hospital nearby for treatment.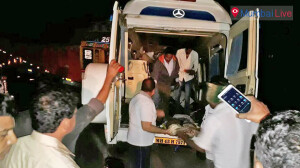 Names of the deceased
1. Vijay Kale
2. Jyoti Kale
3. Yogesh Lokhande
4. Jaywant Chavan
5. Yogita Chavan
6. Revati Chavan
7. Jagdish Pandit
8. Shailaja Pandit
9. Pradip Avchat
10. Sulbha Avchat