Wadala Railway police alert on Holi
Mumbai -
Wadala railway police were alert as to avoid any nuisance on the occasion of Holi on Monday. Police were patrolling in the slums and the adjacent areas of the Wadala station. Police officials made an appeal to residents to celebrate the festival of colours peacefully.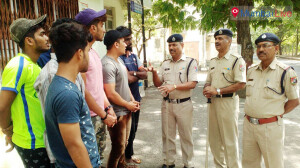 Slums adjacent to the Sandhurst Road to Kurla and King's Circle railway stations on the harbour line were inspected at a regular intervals to avoid any unwanted circumstances.
Wadala Railway, police inspector Sudhir Shinde said that this campaign was launched to keep an eye on the anti-social elements and for the protection of commuters.