Adivasis celebrate and demand of basic amenities on 'World Indigenous Day'
Mumbai -
When almost the entire city of Mumbai was busy witnessing the iconic Maratha Kranti Morcha on Wednesday, tribals from Aarey and Sanjay Gandhi National Park (SGNP) celebrated 'World Indigenous Day' by carrying out their own rally by dancing and celebrating in their traditional outfits. The intention behind this was to exhibit their culture and tradition. The event began from SNGP's Adivasi padas (hamlets) and concluded at Aarey's Bisra Munda Chowk.
Adivasi of Aarey padas celebrate 'World Indigenous Day' by dancing wearing their traditional outfits. #worldindigenousday #aarey #adivasi pic.twitter.com/ID8otMJKnN

— Rupali Shinde (@iamRupaliShinde) August 10, 2017
"We have been celebrating this festival for three years through our Shramjivi Sanghatna. We want to show people that we still exist. While we were researching on our tribe, we got to know that, people from our tribe too had participated in the freedom movement. Raghoji Bhangre from Maharashtra was one of them fought for our freedom. Bisra Munda from Jharkhand was another, an Adivasi who fought for us with a bow and an arrow. Recognising his contribution, we have named a chowk after him. We conclude our festival by paying homage to our freedom fighters from our tribe," said Prakash Bhoir, Vice-president, Shramjivi Sanghatna, Mumbai.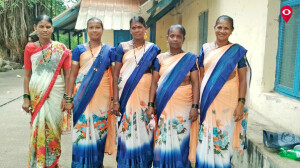 Bhoir further added that Pune's Adivasi Research Centre had conducted a research and found that the city has around 222 padas, of which 27 padas are in Aarey, 11 in SGNP, 8 in Gorai, 10 in Madh and other padas have transformed into slums. "The community here doesn't have the basic necessities like electricity or water. The intention of the festival is not only celebrating, but we also seeking help and demanding the basic rights, amenities from the authorities . We are planning to do a chakka jam on a national highway if our padas don't receive water."
This festival takes place once a year only on 'World Indigenous Day'. I think, there should more such festivals and people like us should get involved to know more about their culture and tradition. If this doesn't happen, then we will forget their existence. These people play an important role in conserving the Aarey forest and so it is important that we should not ignore their existence.