India's first ever Micro-Fiction Fan Fest to be held in Mumbai
Mumbai -
Two girls driven by the passion and enthusiasm to shake things up have joined hands together to get some wordplay for the millennials. Being hopeless lovers of wordplay, and not having enough of the beautiful musings that pop up on our screens day in day out, they together thought of bringing the best of the minds behind these words to one platform, by putting together India's first ever Micro-Fiction Fan Fest.
The event is curated and organized by Khushboo Balwani Rawal and Hiral Malde Shah and the girls have joined hands with those who have had the nation; especially the youth fall in love with their magical world of minimalistic expression. When asked about the idea behind the fest, the duo said "Flash fiction in the form of literature, music, poetry, et al has been ruling our mind space along with the digital space. It's time that Micro-fiction got its own platform and literati. We bring the long and short of literature to the youth instead of waiting for them to come to it and strive to make literature more accessible."
The first edition of TMFFF will be held on 1st and 2nd April 2017. The edition will see India's most loved micro-fiction curators, content creators, and youth icons who rule the content ecosystem by breaking stereotypes.
Here are the details about the event:
Day 1: • Introduction to The Micro-Fiction Fan Fest – 11.30 am onward
• Workshop by Terribly Tiny Tales 12pm- onward
(India's best story telling platform shows you how to write your own story)
• Panel discussion – 4 pm onward
From print to digital, what changed and what didn't: Hear the wittiest discussion on the evolution of micro-fiction with Malishka, Gaurav Gera, Shamir Reuben and Kirthi. RJ Rohini will curate this interaction.
• Closing ceremony by Kommune
Stellar performance by the storytellers of Kommune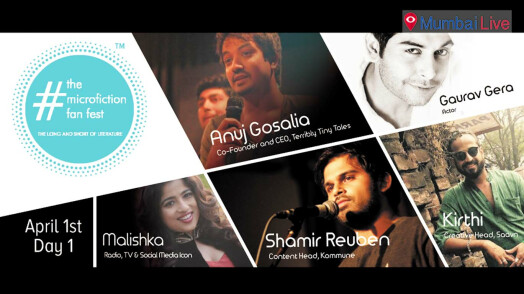 Day 2: • Workshop by The Education Tree - 2.30pm onward
(Kunal Arora, Co-Founder of India's fastest growing youth community will share his insight on how to have the maximum impact with minimum words without cutting short on creativity)
• Open discussion– 4.45 pm onward
An interactive session with Chintan Ruparel- Co-founder of Terribly Tiny Tales, Kunal Arora – Co-Founder of The Education Tree and Aastha Atray – Author, Journalist and Poetess. RJ Rohini will curate this session.
• Closing ceremony
• Live performance by Nikhil Shetty 6.45 pm onward
If word is food for the mind, music is food for the soul. An unplugged evening with our favorite songs sung by this versatile YouTube star.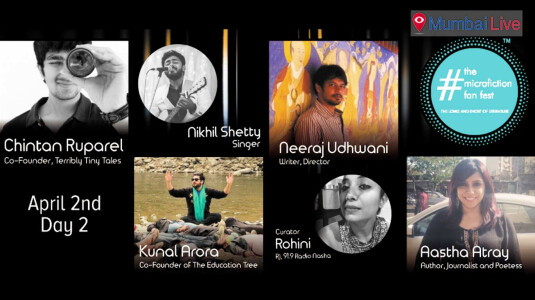 The event will be held at 20 Downtown, Churchgate, Mumbai.
More info about the same is available at http://www.officialtmfff.com/