Maharashtra Shahiri Lokkala Mahotshav 2017
Mumbai -
Kalachowkie - Maharashtra Shahiri Lokkala Mohatsav 2017 was organsied at kalachowkie's Shahid Bhagatsingh ground on Sunday. Chief Commissioner of income tax, Sanjay Kumar Patra inaugurated the programme.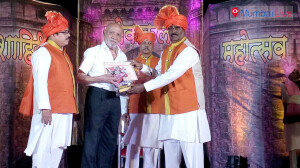 Noted shahirs like shahir Shantaram Chavhan, Madhukar Khamkar, Datta Thule, Ramesh Nakhva, Krishnakant Jadhav, Shantaram Dhanawade, Nilesh Jadhav, Bal Shahir, and Prithviraj Mali presented their shayaris. Apart from that, dance performances were also organised.
Meanwhile, cine actor Jayshree T, Kishori Ambiye, Yakub Sayeed, Milind Gawli, singer PUshpa Pagdhare, play producer Uday Dhurat, Prasad Kambli and others were honoured with Maharashtra Lokgaurav awards.